Secrets from a Manhattan Broker: Things Your Rental Broker Doesn't Want You to Know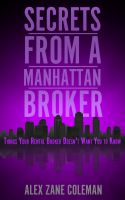 Have you ever wondered why finding an apartment in Manhattan can be such a frustrating, daunting experience? Have you ever thought that maybe those advertisements that you see on Craigslist could be for fake apartments? Do you wonder about what goes on behind the scenes with your broker that justifies such a high fee? Well this book looks into those nagging questions that you may have about apartment hunting in Manhattan, your broker, and more!
Written by an ex- Manhattan Real Estate Broker, this tell-all book uncovers the lies that run rampant and the games that brokers play in the New York City rental marketplace. This book serves as a wake-up call for all Manhattan apartment hunters helping them to navigate through the rental market and empower themselves during the search for their next home. Coleman takes you on a journey from answering a seductive apartment ad to what actually happens when you are dealing with a broker (as well as what happens behind your back!). Revealed within these pages is knowledge that will help you to avoid the common pitfalls, dramas, and traumas of finding an apartment in Manhattan, helping you to save time, money, and most of all, your sanity and soul.
***(Warning: This book contains occasional foul language.)
Alex Zane Coleman has worked in the Manhattan Real Estate Industry for over seven years as an agent and broker holding 'Highest Earner' and 'Top Producer' billings at some of the largest firms in New York City. She independently owned and operated her own real estate company, working with some of the wealthiest corporations in Manhattan, strictly on a referral basis. She has an academic background in both Law and Journalism and is a graduate of NYU. Alex lives in New York City.
Read an excerpt from the book Secrets from a Manhattan Broker: Things Your Rental Broker Doesn't Want You to Know:
"In the early days of my career when I did not know better, oftentimes at the prompting of a superior, sometimes I would show a crappy apartment and feel hugely embarrassed. During those moments I felt like I had just served a dinner guest an awful meal made with rotten ingredients. I'll never forget the times when a senior agent who was training me would send me off to some god-forsaken property knowing that I had never seen it before, only to have me feel humiliated by its horrible condition- leaving me with a highly annoyed client. I don't think I could ever get over those times. But I can say that they served as a reason for me to desire to be better than everyone else when it came to the game of real estate.

Another secret to my success in the game of real estate is that I am very particular about timing, planning, and organization. I always double checked and confirmed my appointments with management companies, landlords, and other brokers if applicable. I also made sure that I had a well planned itinerary for my clients, especially if they were from out of town and had a very limited time to look at apartments. I always double checked availabilities the night before or the morning of just to make sure the apartment wasn't taken off the market at the last moment. I also was always early for every appointment.

When it came to client paperwork, I was extremely anal. I made sure that my clients had their paperwork ready to go ahead of time so as to not miss an opportunity due to waiting a few days for their supervisor to write their letter of employment, etc. I also always made sure to lock my files every single time I left the office so as to not ever be held responsible for someone's social security number flying in the wind or someone's salary figures to be made available for agent gossip."
Click this link to check out his book at Smashwords