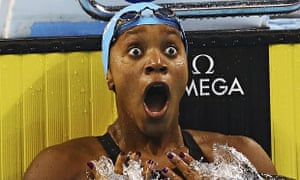 Bim Adewunmi: The Jamaican 100m breaststroke swimmer has double cause to celebrate after her record-breaking win at the Fina World Swimming championships.
*****
Abig congratulations to Jamaican swimmer Alia Atkinson, who is a new 100m breaststroke champion. Atkinson completed the race in 1 minute and 2.36 seconds at the Fina World Swimming championships in Doha at the weekend, equalling the record set by Lithuanian swimmer Rūta Meilutytė. Atkinson is the first ever black woman to win a world swimming title.
Atkinson, who mostly trains in Florida, where she also works with the International Swimming Hall of Fame to promote swimming to youngsters from different communities, looked overwhelmed by her win on Saturday.
According to a 2010 survey by USA Swimming, 69% of African American children have low or no swimming ability. The stereotype of black people refusing to learn how to swim is a stubborn one to shake, but with Atkinson's win – and others such as Justin Lynch (an 18-year-old California swimmer who broke Michael Phelps's 2001 national age-group record last year) – perhaps it is being eroded.
After her win, Atkinson told AFP: "Hopefully, my face will come out, there will be more popularity, especially in Jamaica and the Caribbean, and we'll see more of a rise."
Source: Alia Atkinson wins a new world record – and a first for a black woman | Life and style | The Guardian